All aboard the Singles bus
I am a fan (on the whole) of celebrity couples, ok, so there are some that I hate/have hated eg. Paul McCartney and Heather Mills (One legged bandit) or Katie Price and Alex Reid (Shamtastic).
What can I say? I'm a sucker for love and romance and like to see people happy in couples whatever their ages, status or financial wealth. Yet being a celebrity it must be hard to meet genuine people or have a normal relationship.
So imagine my horror as last night I discovered not one, but two celebrity couples were headed for the break up boat. Lenny Henry and Dawn French are splitting up after 25 years of marriage :( Noooo and Jim Carey and Jenny McCarthy are splitting after 5 years.. sob... in the words of Black Eyed Peas, where is the love?
I thought I'd compile a list of the 5 celeb splits that have saddened me the most...
5.
Samantha and Smith from Sex and the City
Ok, ok, so it's a fictional TV show/Movie it still doesn't mean I can't get upset! I have grown up with the SATC ladies in my life, shared their tears, relationships and wardrobe triumphs. Smith stayed with Sam for 5 years and supported her through cancer and chemotherapy but Sam called it quits, moved back to NYC from LA and decided to live for her.. sob :(
4.
Jake Gyllenhall and Reese Witherspoon
Awww I LOVED this couple together, I mean look how gorgeous they look!! They are the American dream... damn work schedules or whatever it was that seperated these two uber talented, pretty people. I've always liked Reese Witherspoon and really hope she finds Mr. Right, hopefully it wasn't her love of Avon products that did the damage!
3. Cheryl Cole (Tweed) and Ashley Cole
I'm not particularly sad for him, but I am sad for Chezza. I mean she's gorgeous, talented and wants to have a career seperate from her husband... what's so wrong with that?! Ashley allegedly slept with a chav looking girl in 2008 for which he was forgiven and returns Chezza's extremely nice gesture by sexting his little Ashley parts to various girls.. what an idiot. Better off without him Cheryl..
2.
Nick Lachey and Jessica Simpson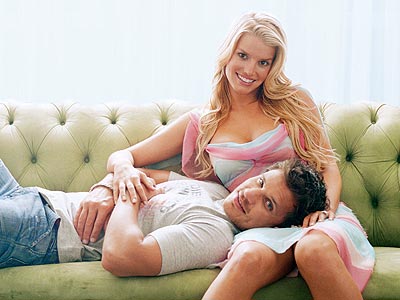 These two were the ultimate newlyweds! They kindly documented their first years of marriage on MTV for us to mock, laugh at but generally grow to like Jess and Nick as Barbie and Ken. Jessica was a dumb blonde who loved throwing clothes about and pretending she could cook, Nick wore vest tops alot, hung out with his brother and rolled his eyes constantly... but they were in love. Until on a film shoot, Jess allegedly hooked up with Bam Margera (Jack Ass) and was judged by me, to be a skank...
1.
Jennifer Aniston and Brad Pitt
After Brad Pitt's appearance as a Rachel Green hating friend of Ross' on Friends I was totally sold on this couple, they seemed to have it all... fame, wealth, beauty and the chemistry. That is until Pitt made a film called 'Mr and Mrs Smith' with the big lipped, blood vial wearing, she-vixen that is Angeline Jolie. The chemistry on screen was undeniably good between and off screen the magic seemed to be happening too. Brangelina now have about 20 kids, a keen sense of peace on earth and just look so loved up. Jennifer Aniston on the other hand, still has her figure, no children, a history of terrible choice boyfriends and an uncanny ability to play the same charatcer in every terrible movie she makes... I'd say Brangelina 1, Aniston 0.
Please celeb world, no more break ups for now...
Love, SGS xoxo