A look at the Good, Bad and Fugly TV this week
This week in TV land saw some debutants - good and bad. Here are my picks:
The Good - The Morgana Show
The Morgana Show
began on Channel 4 this week and luckily pulled me out of my stupor after watching Frankie Boyle's gruesome attempt at a sketch show (see Fugly). Flighty comedienne Morgana Robinson delivers a sketch show with impersonations and new characters and it was genuinely funny. If you have a sort of love/hate relationship with Fearne Cotton (I'm in that group) then you will love Morgana's uncanny impersonation of her as she takes on death challenges and says "wicked" a fair few times. Also look out for her characters, Gilbert in particular was very funny.
Next episode:
Channel 4
Tue 07 Dec
,
10.35pM
Other good TV shows
: Mad Men BBC 4, Eastbound and Down - FX, The Graham Norton Show - BBC1 and The Walking Dead - FX
The Bad - Coppers
Coppers
is a Channel 4 documentary series that has been filmed across England, following the police in big cities and country beats aiming to reveal what the Police are up against every day of their working lives. The documentary itself wasn't bad at all, it was what the content revealed I thought was
unpleasant
.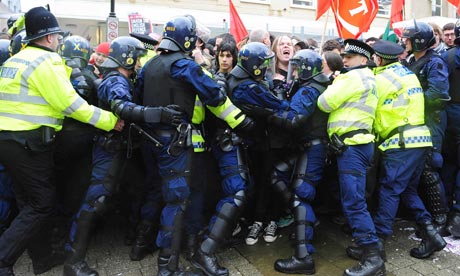 This particular episode followed Greater Manchester Police's Tactical Aid Unit (TAU) at a protest in Bolton using the controversial 'kettling' technique to separate the protesters (think the horrific scenes in London as students stormed the Tory HQ). The Guardian's TV Review page can explain this a whole lot better than I can,
"The riot squad is shown dealing both with the English Defence League (EDL) – described by senior officers as football hooligans linked to the far-right, including the BNP and Combat 18 – as well as a counter-protestorganised by Unite Against Fascism (UAF), whom one officer jokingly describes as "the type of people you would probably see at Glastonbury".
What I thought was particularly 'bad' about this programme were the attitudes and behaviour of some of the officers.The TAU looked more like a cops and robbers fancy dress night out for bouncers as bulky officers made up the majority of the force. On the plus side the officers did take time to talk to protesters and worried onlookers but clearly cocked up by arresting more vocal protesters, who, other than crimes against fashion had done little wrong. One officer in particular lost his temper and was heard repeating "they're going to f****g have it". It did little to reinforce a positive view of the police in this country.
Last episode:
Channel 4
Mon 29 Nov
,

9pm.
The Fugly - Frankie Boyle's Tramadol Nights
Yes, do not adjust your monitor, that is Frankie Boyle in a wig pretending to be The Hoff's character Michael in a Knight Rider sketch for his new show Tramadol Nights. The show is largely based on sketches and stand up from the acid tongued comic. After enduring a personal Frankie Boyle tirade in the front row of a theatre in Port Talbot my opinion of the man has changed. That was a traumatic experience to say the least, as was this show.
The one of the things that first attracted to me to Frankie's humour was the fact it was so dark, perverse and ultimately evil. His constant attack on Kerry Katona on 'Mock the Week' would make me belly laugh but his cruel jokes about mental illness often leave me uncomfortable. His ability to come up with one liners is his strength and sadly there was too much sketch and not enough chat. Most of the content was aimed at combining political and racial issues with mental illness, a TV turn off and I won't be tuning in again.
Next episode:
Channel 4,

Tue 07 Dec

,

10pm